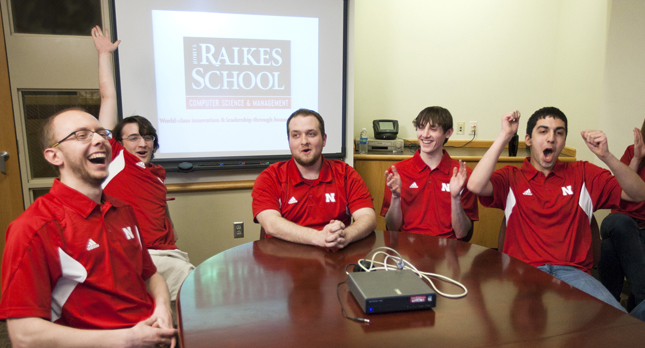 In a live webcast in front of as many as 3,000 people across the nation on Feb. 15, students from the Jeffrey S. Raikes School of Computer Science and Management cheered after winning more than $58,000 in an app-development challenge.

"Team Stock Bros" students Neema Bahramzad, Alec Johnston, Chris Johnson, Clay Upton and Derek Guenther will split most of the prize money won in a competition among 29 teams from universities across the country. A portion of the prize will also fund improvements at the Raikes School.

The challenge required the development of unique investment apps using TradeKing's Application Programming Interface. TradeKing is an online broker-dealer. Students worked on the development September through December 2011. The resulting apps took creative approaches to combining the TradeKing API with other APIs from websites such as Twitter, Yahoo and Google.

The University of Nebraska-Lincoln was one of 29 teams competing, and made the finals. Other finalists were Loyola University Maryland, McKendree University, Rensselaer Polytechnic Institute, and Villanova. By making the finals, the Nebraska team was guaranteed at least $3,000, or $5,000 as a runner-up. The finalist round on Feb. 15 featured a live interactive demonstration with the other finalists and judges.

Team Stock Bros developed three apps: an Android phone app, a browser extension and a stock notification program. They won the midwest division plus the national prize. Another Nebraska team, Team WYSIWYG, developed a Windows 7 phone app -- and for their work won $1,500.

TradeKing CEO Don Montanaro was master of ceremonies in the hour-long online meeting, calling on each team to show their work and announcing first division winners, then the single national winner.

This first-of-its-kind challenge was created to drive a unique collaboration between academia and a financial services industry leader like TradeKing to foster creativity and awareness about innovative entrepreneurial possibilities around APIs.

"For an innovation-driven company like TradeKing, it was gratifying to see bright young minds realize their potential, take on the challenge and prove to themselves that with focus and hard work, they can cross every frontier," said Don Montanaro, CEO and Chairman of TradeKing. "Since September, I've watched closely as the Campus Challenge student teams worked diligently to understand the online brokerage industry and put their creative technical skills to work developing next generation apps to let investors learn and trade in innovative new ways. The breadth of the students' imaginations translated into apps that strike at the very essence of what this competition was all about."

Montanaro said the challenge judges were impressed with the caliber of work submitted by the students, which made choosing the winners a difficult task, "but the Stock Bros team from the University of Nebraska created an impressive and functional application with the right combination of entrepreneurial spark, out-of-the-box thinking, real-world viability and skillful software development.

"I congratulate the entire University of Nebraska-Lincoln community for the school's performance in the API Campus Challenge."

Stock Bros created a unique platform that combines a Chrome Browser Plugin, Android Mobile application and cloud-based notification service to enable investors to interact with and trade via TradeKing from any website. A user can select the equities for which they'd like to scan and, as they browse the web, a Google Chrome extension scans pages for those symbols and appends an interactive stock quote to the page. The user can then dive deeper to get a detailed quote, an interactive chart and the ability to place a trade with TradeKing.

Customers want to subscribe to services from any and all destinations and devices in addition to traditional websites, TradeKing said; this app fills that role.

This unique application was implemented by creating a mashup between the TradeKing and Yahoo! Finance APIs. From the browser extension, traders can further manage push notifications that are sent via their web service to the Android mobile application. True to the idea of trading from anywhere, the application covers both the Browser and mobile delivery channels.

Team WYSIWYG students, also from the Raikes School: Jessah Hofker, Cody Jung, and Emily West, developed a Windows 7 phone app that allows investors to place trades via the TradeKing API, monitor watchlists and track market changes. It features convenient auto-completion functionality for symbol or company names via a connection through the Yahoo! API.

"I think this is one of the most fun days we've had in Raikes School history," director David Keck said. "It was definitely an experiment, stretching the bounds of educational methodology. The original idea was to figure out whether doing a national competition would increase engagement and the learning experience and it looks to me like it was all very successful.

"The real goal wasn't really the prize money ever, it was the experiment with the learning experience and to see what kind of engagement would come from doing a national competition," he said. "The course ended two months ago, and the students are still talking about finance, looking at what other teams did across the country, so I think the engagement really was a big win."
Keck and the team were also glad to have Nebraska and the Raikes School stand out among some tough competition.

"A lot of people were viewing that webcast and there really was a lot of leading edge apps being demoed. So I think it's one more opportunity to put Nebraska on the map.

"We did it tonight."

- Dave Fitzgibbon, Kelly Bartling

A video of the winning moment is linked below.

More details at: https://www.youtube.com/watch?v=Y7UEsFaeoMY